habitudo
Дещо дефективний плід любові до лорда GGB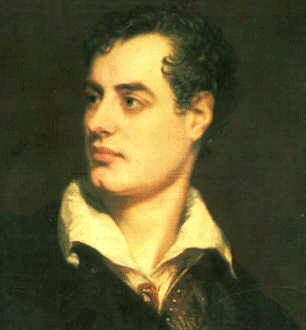 As rising on its purple wing
The insect-queen of eastern spring,
O'er emerald meadows of Kashmeer
Invites the young pursuer near,
And leads him on from flower to flower
A weary chase and wasted hour,
Then leaves him, as it soars on high,
With panting heart and tearful eye:
So beauty lures the full-grown child,
With hue as bright, and wing as wild:
A chase of idle hopes and fears,
Begun in folly, closed in tears.
If won, to equal ills betrayed,
Woe waits the insect and the maid;
A life of pain, the loss of peace,
From infant's play and man's caprice:
The lovely toy so fiercely sought
Hath lost its charm by being caught,
For every touch that wooed its stay
Hath brushed its brightest hues away,
Till charm, and hue, and beauty gone,
'Tis left to fly or fall alone.
With wounded wing, or bleeding breast,
Ah! Where shall either victim rest?
Can this with faded pinion soar
From rose to tulip as before?
Or beauty, blighted in an hour,
Find joy within her broken bower?
No: gayer insects fluttering by
Ne'er droop the wing o'er those that die,
And lovelier things have mercy shown
To every failing but their own,
And every woe a tear can claim
Except an erring sister's shame.

Як на фіалкових крилах
Метелик свій сотає шлях
Серед смарагду свіжих лук,
А зачарований малюк
Даремно топче моріжок
І тягне руки між квіток:
Заплаче ревно – в мить одну
Метелик злине в вишину.
Чарує так свавільний лет
Красуні, що куштує мед
Весняних днів: та ж барв краса,
Така ж у юнака сльоза,
Хоч весело ганяв він рій
Пустих надій, страхів і мрій.
А втраплять тільки-но до рук –
Однакових зазнають мук
Комаха й діва: для забав
Ловець зрадливий відібрав
Їм волю, спокій і снагу;
Свою задоволив жагу –
А в пальцях вилиняв ураз
Краси живої чар-алмаз.
Що ж, час на волю відпустить:
Нехай як хоче, так летить.
З кривавим серцем і крилом
Пораненим – куди ж обом?
Чи зблякле понесе крило
З мімоз в тюльпани, як було?
Чи скаламучена злочин
Забуде і знайде спочин
В шатрі знівеченому? Ні,
Їм не бринітимуть пісні,
Жалобні навіть: не злетить
Мотиль вмирущого жаліть,
А ті, прекрасні над усіх,
Співчутливі, ті кожен гріх
Пов'ють у лагідну журбу –
Лише не сестрину ганьбу.